Tricky Bearing Walls
Fig. A shows a typical bearing wall situation: A single bearing wall runs down the center of the house and joists run across it. Most bearing walls follow this pattern, but many don't.
The kitchen/dining room wall in Fig. B, for example, runs parallel to the joists both above and below it, so you might assume it's not a bearing wall. But notice that the attic joists run the other direction, across the second-floor wall. Those joists are supported by the second-floor wall, which is supported by the first-floor wall directly below it. So the kitchen/ dining room wall turns out to be a bearing wall after all.
The house in Fig. C has joists running two directions. The back part of the house follows the typical scenario, with the main bearing wall running down the center. But then–in order to create a big, unobstructed living room across the front of the house–the wall stops and the joists change direction. Because the joists must be supported on both ends, the living room/dining room wall is a bearing wall.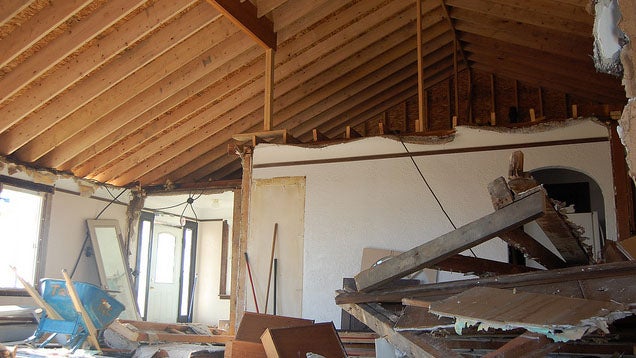 When There Are No Sure Signs
Some homes are built in such a way that you can't see any sure signs. If your house was built on a concrete slab (no basement or crawlspace), you obviously can't look under the walls for extra support.
At the same time, attic trusses can eliminate sure signs above walls. (Trusses are those one-piece, factory-built rafter assemblies held together by metal plates. If your home was built within the past 30 years, you likely have them.) Most trusses don't require mid-span support, so a typical one-story house with trusses won't have any bearing walls. But you can't assume this.
Because they rarely end or overlap above interior walls, trusses aren't very helpful in identifying bearing walls. In your attic, you might be able to see markings on the trusses saying something like "bearing point," meaning that the truss must have a wall or beam under it there. But not all trusses are marked, so just because you don't see a label, doesn't mean the truss is unsupported.
In cases like these, where you can't find sure signs, it's best to get professional advice. Begin with a call to your local building inspector (in the local government section of your phone book). It's not the inspector's job to help you plan projects, but many are willing to provide help like this. If not, you can hire a contractor to visit your house.
This is a new and improved version of a previously run article in The Family Handyman.
Two Traps to Watch Out for …
Distinguishing a bearing wall from a partition wall is usually a straightforward job. But houses, especially old houses, are full of surprises and it's easy to get fooled.
Here are two situations I've seen again and again:
Basement Beams Removed
On one of my first wall-removal projects, I surveyed the basement, saw no beefed-up support below the wall and grabbed my sledgehammer. But as I knocked the plaster off the wall, I noticed a large header across the top of the doorway. Made from two 2 x 6s, it was much stronger than necessary-unless the wall was a bearing wall.
So I made a closer inspection of the basement. After removing a few suspended ceiling panels, I could see bent, leftover nails and nail holes in the joists below the wall. I pulled a rug back and saw the outline of a post footing in the concrete floor. It was clear that someone had simply removed a beam and posts. The wall above was a bearing wall after all. And thinking it was a partition wall, I nearly knocked it out without providing temporary support.
Partition Walls Become Bearing Walls
I consider all the wails in my old house bearing walls–not because they were originally intended to support weight, but because my joists are too small. The undersized joists flex and sag, putting downward pressure on all the walls. So if I were to remove any wall in my house, I'd have to treat it like a bearing wall. Otherwise, the ceiling above the wall would probably drop a fraction of an inch and eventually sag a lot.
You can tell whether your partition walls are playing a weight-bearing role by looking at your ceilings. If they're sagging, you should probably treat them as bearing walls. Even if a ceiling is sagging badly, it's often hard to tell just by looking up at the ceiling. So use a ladder to get your head right up against the ceiling and look across the ceiling just as you'd look down a board to see if it's straight.